Who?
Students from 6th–12th grades and adults within the congregation in three different generations (20-30's, 40-50's, 60's+).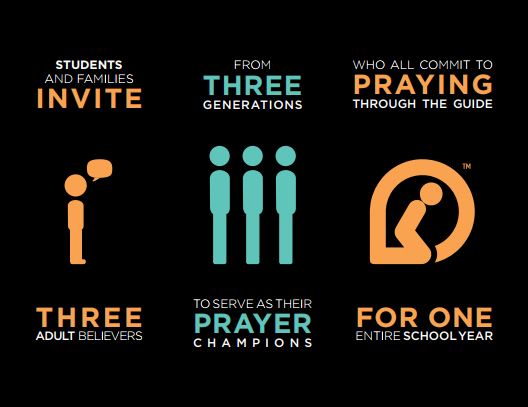 What?
3 adults from 3 different generations will pray scripture over 1 student for 1 school year. With the help of the Pray for Me Prayer Guide, adults will pray the 7 essentials of core things that need to be pursued in order to flourish in living faithfully before God & man.  Those things are: wisdom, favor, speech, conduct, love, faith, and purity.  These are drawn from two primary passages of scripture:
"And Jesus increased in wisdom and stature and in favor with God and man." / "Let no one despise you for your youth, but set the believers an example in speech, in conduct, in love, in faith, and in purity."
Luke 2:52 / 1 Timothy 4:12
When?
Prayer Champions will pray scripture for their student over the course of a school year. We begin the year with our Pray For Me Launch — a potluck dinner for students, their families, and Prayer Champions. We ask that each generation of Prayer Champions bring a dish:
20s & 30s — dessert
40s & 50s — casserole or meat
60s+ —  side dish
Why?
80% of teens raised in the church will disengage by the time they are 29. We want to change this! The Pray for Me Campaign creates the opportunity for teens to connect naturally with adults who will pray for them. We want every student involved in the Pray for Me Campaign to be equipped with everything they need to remain rooted in their faith and connected in the church.
How?
Each student invites three adults from three different generations to be their Prayer Champions for a school year.  The student's invitation builds a bridge from their generation to the next.  This creates a web of intergenerational relationships that support students through middle and high school and beyond.
Will You Pray?
Prayer Champions will pray scripture for their student using the Pray for Me Prayer Guide, a tool designed to help adults effectively pray the scriptures over their students for the course of a school year. Thank you for investing your time in prayer. It will be a great blessing to a student! Sign up below to become a Prayer Champion!