We seek a more intimate relationship with Jesus.
Join us as we discover the practical, everlasting, and sacrificial love God desires for us. It's a story that offers guidance for life's challenges, encouragement in life's difficulties, and hope for eternity. It can be your story too!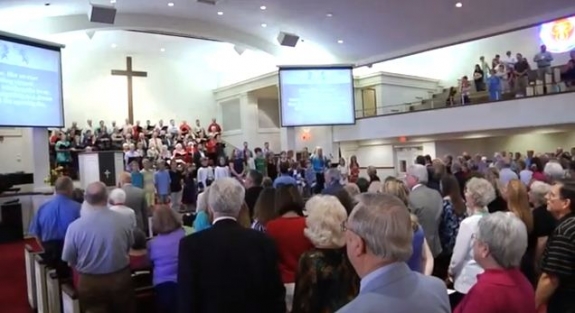 Traditional Worship

Sunday, Sanctuary
8:30 a.m. / 11:00 a.m.
W e invite you to join us in worship! Families and individuals of all ages gather each Sunday to celebrate the worship of God through a powerful combination of hymns, ancient liturgies, message, and media. The Chancel Choir, along with the piano and organ, leads us in worship together. Holy Communion is celebrated on the first Sunday of each month. We have an open table where each and every person is invited to receive Holy Communion. 
River Worship

Sunday, Gym
11:00 a.m.
This contemporary / informal worship time is where God's love flows! Worship consists of contemporary music, multimedia presentations, and God's word. The music is celebratory and interactive, and the morning message is given by one of our pastors. Holy Communion is celeberated and offered to all on the first Sunday of each month.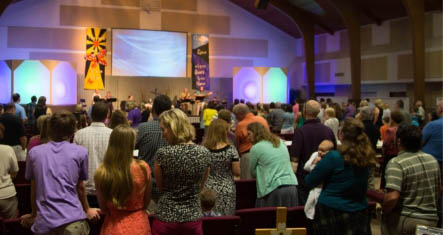 Children's Sunday Worship Opportunities / Childcare
Children of all ages are always welcome in our worship services. We know the value of families worshiping together! We also recognize that children can benefit from an introduction to worship and what it's all about. Our children's worship times are designed to do just that! Check out our Children's Ministry Page for more information on our programs / childcare FAQs.
NURSERY (Birth–Toddler)
8:30–9:30 a.m. / 11:00 a.m.–12:00 p.m.
An engaging nursery is offered during all of our worship services.
SEEDS OF FAITH WORSHIP (2yr–4/5yr)
11:00 a.m.–12:00 p.m. 
This worship time takes place during the 11:00 services and is a wonderful time for little ones to plant their seeds of faith! This children's service consists of songs, prayer, offering, and a scripture lesson.
GROWING IN FAITH WORSHIP (K–3rd Grade)
11:00 a.m.–12:00 p.m. 
This special time of worship during the 11:00 services prepares children to engage in lifelong participation in worship and is a great time to grow in their faith! Starting in Kindergarten, families begin worship together in the main services. At a designated point in the service, children may either remain with their families to hear the sermon or choose to go to the chapel for this unique worship time.
Oh come, let us worship and bow down; let us kneel before the LORD, our Maker!

Psalm 95:6
SERVING IN WORSHIP
There are many ways for people of all ages to share their gifts in worship. Please consider being a part of our regular rotation of leadership. All teams serve on a rotating schedule to help balance commitment levels!
SUNDAY MORNING HOSPITALITY
Sunday mornings are a great time to care for our congregation in a simple way. Coffee and pastries are made available on Sunday mornings in the atrium area. We'd love to have you join us in ministering to our congregation and guests. Would you consider volunteering for an upcoming Sunday?
SUNDAY MORNING GREETERS
Greeters serve a vital role at our church each Sunday. First time guests and members alike benefit from a welcoming smile. We are always seeking individuals with a heart for hospitality to make our Sunday mornings even brighter. We'd love to have you join the team! Please indicate your area of interest below: Doorway Greeter, Hospitality Guide, Children's Welcome Center Greeter, Children's Check-Point Monitor.